Our Key Staff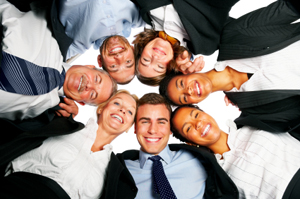 You can see it in their smile, you can hear it in the tone of their voice and if you can read between the lines, you can even tell by our email. Every person at Movad is dedicated to providing our clients with the highest level of service in the industry. This culture was created by Movad's founder, Dennis McCloskey, who passed away in May 2012; and is sustained by Joan McCloskey who worked with Dennis since Movad opened in 1986. It was then that the the mission statement was hung on the wall "to provide the highest level of service in the industry." Movad's team of "get it done", caring individuals set us apart.

It is unlikely you'll ever meet all of the people on our team. The press operators, inserter operators, quality control and the accounting staff, have little interaction with our clients. Nonetheless, everyone has the utmost concern for our client's expectations.

The team members who you may have contact with have been chosen for their technical ability and their willingness to make every interaction with a client a positive one.

Bob Hanf is a second generation printing professional. Since he started in 2003, Bob has displayed his desire to serve our clients to the highest level. Because of his extensive background in the industry, Bob is a valuable asset to any client looking for ideas about how to produce a project in the most cost effective manner. Most of our clients depend on Bob to provide ideas, cost estimates and expedite their orders.

Mario Lima heads the prepress department at Movad. Since his arrival in 2004, Mario has spearheaded the movement to highly personalized, segmented variable data printing. His technical abilities are matched by his desire to help our clients. Mario goes the extra step in explaining, in layman's terms, the requirements for producing sophisticated, and complex variable data projects. It was Mario's efforts that inspired several clients to refer to Movad as "the most intelligent printer".

Susan Matlack joined the Movad team as a customer service representative in 2012. Her twenty years of customer service experience enables her to handle the many tasks she performs at Movad. Her prior experience in advertising specialties gives her an understanding of print terminology. She's first to the phone and will assist you in addressing your issues.

Joan McCloskey, President of Movad, worked in partnership with Dennis since its inception in 1986, is now dedicated to continuing Movad's philosophy. As the leader of the Movad team, her focus is to understand the needs of the client, and to strengthen our capabilities to meet those needs. Through close interaction with the sales team she understands the challenges that clients face. "In an effort to be the best at what we do, we need to design the business to satisfy the needs of the client." Joan's production management skills help organize the work flow so that we produce quality work in a timely manner.

Rob Krischker came on board in the summer of 2012 and was assigned to handle the outside sales side for Movad. Rob brought with him a unique sales and marketing perspective that is motivated by developing customized strategies that achieve client objectives, stays within budget, and most importantly, delivers measurable ROI. In addition to developing relationships with new business prospects, Rob utilizes his 20+ years of experience in the industry to handle the day-to-day sales management needs of our long-term client base. Whether you are brand new to Development/Advancement and want to learn how to best leverage direct mail for your organization, or are a seasoned direct marketer looking for a new approach/ideas, Rob is valuable resource to reach out to.

Craig Volpe has been supervising production at Movad since 1997. Craig schedules every job that passes through our doors. He has been instrumental in developing systems that insure accuracy and timely delivery of every project. As hands on supervisor, he inspects every job for quality and insures projects are completed to the most demanding specifications. Craig interacts with client when discussing postal regulations for direct mail projects.

Ray Yonker came to Movad in 2010 to help handle the data issues brought on by the complexity and demands of highly segmented variable data printing. Ray's extensive background has allowed Movad to become "the source" for the most sophisticated variable data projects. From data cleansing to list suppression, there is no finer talent in the industry than Ray.
---